Environmental Hall of Fame
Feature: Jack Canfield, America's Success Coach
We are establishing Environmental Halls of Fame in several communities.
We believe that in each community there are at least a dozen groups or individuals who deserve to be recognized for their contribution to helping the environment.
Our goal is to encourage and empower these groups and individuals through such recognition.
We feel it is most appropriate to first honor the mayor and sustainability director in each community on behalf of the city's sustainability initiatives.
Press Release About National Environmental Hall of Fame
Info About Our Student Programs (PDF)
Photos of Awards to Students
Photos of Awards to Cities and Mayors
Why the Environmental Hall of Fame?
The National Environmental Hall of Fame:
Inspires and encourages individuals and students, as well as top environmentalists, to do their best to help make a difference.
Discovers the best and most sustainable practices so individuals are inspired to adopt them in every community.
How did the National Environmental Hall of Fame get started?
Mark Victor Hansen and Jack Canfield, creators of Chicken Soup for the Soul®, endorsed several of our books. In March 2007, they inspired us to create a book, Heroes of the Planet Earth, for Al Gore's 7/7/07 Live Earth concert.
We made exhibits out of the features in Heroes of the Planet Earth for the National Green Museum and Environmental Hall of Fame. It was natural from there to give awards to the heroes of the environment at our National Environmental Hall of Fame awards ceremonies beginning in 2008.
In 2009 at our National Green Museum expo in Chicago, National Environmental Science Fair students created a book, Hope for Planet Earth. They enjoyed the book so much, it inspired us to create Community Green Guides throughout the United States.
Awards Ceremonies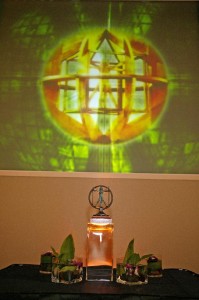 The Environmental Hall of Fame is devoted to curtailing climate change and restoring the Earth's ecosystem by promoting green and eco-conscious living. The Environmental Hall of Fame recognizes environmentalists (corporations, companies, individuals, and organizations) who are committed to taking a stand for a green sustainable planet. The selection committee nominates outstanding candidates for recognition and inducts the winners into this prestigious organization.
The Environmental Hall of Fame will select approximately 50 top environmentalists representing different environmental areas. These nominees, selected from a field of several hundred entries, all share a common commitment to providing the most effective solutions to help humanity's survival and to restore balance to planet Earth. Our mission is to give the award recipients a more powerful platform to help them implement their vision to reduce global warming.
The recognition garnered in receiving a place in the Environmental Hall of Fame is intended to be equivalent to receiving an Academy, Emmy, or Grammy Award in the entertainment industry.
The individuals or organizations chosen as nominees have already made some of the greatest contributions to the environment. There will be awards in 12 major fields that encompass approximately 50 categories, including: Awareness, Community, Energy Efficiency, Government, International, Media, Natural Capitalism, Solar Energy, Environmental Stewardship, Sustainability, Transportation and Wind Energy.
The 50 categories span the depth and breadth of environmental concerns. This year we will induct approximately 50 individuals, organizations or businesses into the Hall of Fame, generally one for each category. Often in the first year of hall of fame inductions, a larger number of individuals are inducted. There also may be more than one individual or organization per category. (Especially since there are at least 50 years we have to catch up on!) This may change next year. By comparison, the Grammy Awards and Emmy Awards have over 100 categories each year.
Through the power of working together, the Environmental Hall of Fame inductees will be able to enjoy an unprecedented opportunity to help humanity avoid disaster and leave a more sustainable legacy for our children and grandchildren.